GOP backer Adelson accused of commandeering Israel's media market
Casino mogul Sheldon Adelson, who has poured millions into GOP coffers, also bankrolls a pro-Netanyahu Israeli newspaper that could transform the media market.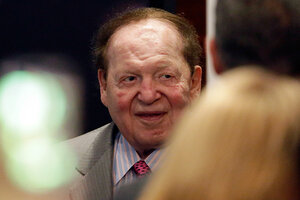 Charles Dharapak/AP
Casino mogul Sheldon Adelson grabbed the spotlight in the US earlier this year for making multi-million dollar campaign contributions to Republican presidential candidates on the bet that their policies would better jibe with those of Israeli Prime Minister Benjamin Netanyahu than with President Obama's.
In Israel, Mr. Adelson is better known as the force behind the five-year-old free newspaper, "Yisrael Hayom" (Israel Today), which is seen by some as the Israeli print equivalent of Fox News. Touting Israeli patriotism, it is among the most widely read newspapers in the country and has a reputation for its fiercely loyal coverage of Mr. Netanyahu – and now Republican presidential nominee Mitt Romney.
Adelson rejects accusations of bias, insisting in a previous interview that his paper is a "fair and balanced" alternative to other newspapers more critical of the government and that he is breaking rival newspaper Yediot Ahranot's monopoly on the market. Many Israelis nonetheless see the paper as a political vehicle to support the prime minster, and now, American Republican politicians. And with other newspapers floundering financially while Adelson puts his substantial wealth behind Yisrael Hayom, some worry that he is squeezing other political ideologies out of the market.
---