Syrian conflict makes Palestinians into both refugees and combatants
When the uprising against the Assad regime began, Syria's half-million-strong Palestinian population was reluctant to join in. Now, some have fled, while others have joined in the fight.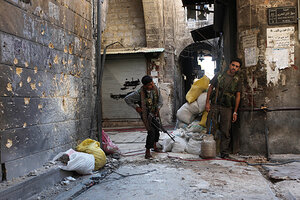 Hussein Malla/AP
Bourj ash-Shemali, Lebanon
Omar Hassan was just three years old when he and his family were forced to leave their home in northern Palestine during the creation of Israel, making a home as stateless refugees in a camp in Syria. Now, six decades on, Mr. Hassan is on the move again, fleeing the violence that has engulfed his neighborhood in Sitt Zeynab outside Damascus for the cramped but peaceful conditions of the Bourj ash-Shemali Palestinian refugee camp in south Lebanon.
"In Sitt Zeynab, we had no problems until two months ago, then life became unbearable with a lot of shelling and fighting," says Hassan, an employee of an airline company in Syria. "Bombs were falling just 150 meters from my home."
Hassan's plight illustrates how the estimated 500,000 Palestinian refugees living in Syria and the various political factions that represent them have been sucked into the vortex of Syria's 18-month war – and how they have responded in different ways.
A tragic history
Hamas, a Sunni militant Islamist movement with links to the Muslim Brotherhood, has cautiously distanced itself from the regime of Syrian President Bashar al-Assad, previously a core ally. Although Hamas still keeps an office in Damascus, Khaled Meshaal, the head of the movement's politburo, abandoned the Syrian capital in January for Qatar, a chief backer of the Syrian opposition to the Assad regime.
---