Anti-Islam video clip spotlights difference in global free speech limits
If the makers of the film 'Innocence of Muslims' – a clip of which sparked violent protests across the region – were Egyptian, they could be imprisoned.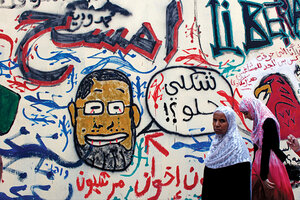 Nasser Nasser/AP
Jerusalem; Cairo; and Rabat, Morocco
The "Innocence of Muslims" video clip has fueled important debates: Should the principles of free speech apply when it comes to insulting Islam? And do differences of opinion in the United States and Middle East over the video represent an unbridgeable values gap?
In Egypt, the makers of such a video would almost certainly be charged with insulting Islam and could face years in prison. So the protesters, like many Egyptians, considered it perfectly reasonable to demand that the US government censor a film that offended Muslims – and assumed that Washington's failure to take action signaled endorsement.
"Yes, there is freedom. But there are limits," said protester Mohamed Ahmed Sayed.
But Hisham Hellyer, a Cairo-based fellow with the Brookings Institution in Washington, D.C., argues it is incorrect to portray Egyptian values regarding freedom of expression as being in total conflict with Western free speech values.
"The idea that this is a West-versus-Egypt-or-Muslim-world kind of issue isn't quite right," he says. "It's far more disputed and complex than that."
---