Middle East protests: Signs of hope, challenge for fledgling democracies
The amplification of extreme voices is one consequence of budding democracies in the Middle East, but citizens insist that those voices remain on the fringe.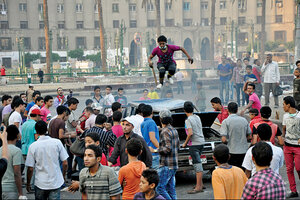 AP
Jerusalem; Cairo; and Rabat, Morocco
The Libyan public's backlash this weekend against a militant group blamed for killing Amb. J. Christopher Stevens underscores that the violent hatred unleashed by an anti-Islam film is supported by only a tiny fraction of Islam's more than 1.5 billion adherents. But as Arabs strive to establish new governments in the wake of the 2011 uprisings, those minorities pose challenges far beyond their size – not only for their governments, but for US policy.
After decades of promoting democracy, the US is getting an early glimpse of what free societies will look like in the Middle East – and the kind of views that may be expressed. The opening up of public life has allowed for the airing of deep anti-American sentiment, built up over decades of US support for Israel and dictatorial Arab governments. It has also empowered the voice of long-repressed Islamist groups, some of whom were voted into power.
Most citizens in the region would likely agree that the anti-Islam film "Innocence of Muslims" should be banned. But they also say that the recent violence against US targets does not reflect broader public sentiment. And many are optimistic about democracy's possibilities, even if their priorities ultimately are different from those of Western societies.
But Israel, a key American partner in the region, argues that this upsurge of free expression is anything but democratic. It has been vocal in its criticism of Washington as naive about democratic development – and the challenge posed by rising Islamist powers, especially hard-line factions.
---