Egypt pursues blasphemy cases as Morsi defends ban at UN
Several blasphemy cases moved forward this week in Egypt. President Morsi defended curbing free speech in an address Wednesday at the United Nations.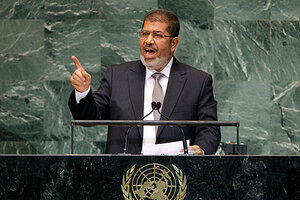 Jason DeCrow/AP
An Egyptian court upheld a six-year prison sentence today for an Egyptian Christian charged with insulting Islam and the president, just a day after the opening hearing in the trial of another Egyptian man accused of insulting the religion.
An Egyptian rights group also announced today that it would ask Egypt's highest appeals court to consider the case of an Egyptian Shia man convicted of desecrating a mosque. And, in a rare case, prosecutors this week brought charges of defaming Christianity against a Muslim who ripped a Bible.
The flurry of developments in blasphemy-related cases comes in the wake of the uproar, in Egypt and across the Muslim world, over an American-made anti-Islam YouTube clip. The protests and anger over the video have strengthened the push for an anti-blasphemy clause in Egypt's new constitution. Rights activists say such a constitutional clause, like Egypt's current laws criminalizing insults to religion, limit freedom of expression and are often used to target minorities and those with unpopular views.
At a speech at the United Nations Wednesday, Egyptian President Mohamed Morsi was unequivocal about Egypt's position on banning "insults" to religion. "Egypt respects freedom of expression," he said, but "not a freedom of expression that targets a specific religion or a specific culture."
---