Netanyahu's simple bomb graphic confuses the nuclear experts
Israeli Prime Minister Netanyahu sought to simplify the Iranian nuclear issue with the diagram he brought out on the UN podium, but experts say he actually made it more confusing.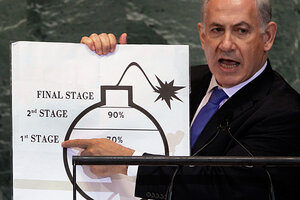 Richard Drew/AP
Prime Minister Benjamin Netanyahu stole the spotlight at the United Nations General Assembly yesterday when he pulled out a comic book-like diagram of a bomb midway through his podium address, figuratively drawing the red line on the Iranian nuclear program that he has demanded from the US.
For months, Mr. Netanyahu has been calling on the US to specify a point in Iran's nuclear development that, if crossed, would trigger military intervention. The US has steadfastly refused to commit itself to a specific point, prompting the Israeli leader to take his case to the international community.
While his presentation certainly got attention, some experts say that Netanyahu's prop missed the mark, confusing where his red line lies rather than simplifying the issue. The problem, they said, is that his presentation conflated two different types of numbers.
The bomb chart showed percentage progress toward acquiring enough fissile material to make a bomb. Netanyahu said the Iranians were 70 percent of the way there and drew his now famous red line at the 90-percent threshold, a milestone he predicted would be reached sometimes next spring or summer.
But in his remarks, he spoke of the need to draw that red line between the production stage of enriching uranium to medium level purity – 20 percent, according to experts – and the stage of uranium enrichment for weapons-grade purity, which is 90 percent.
Mark Regev, a spokesman for Netanyahu, said that the red line refers to "90 percent upon the path to weapons grade enrichment." Amos Harel, a military commentator for the liberal Haaretz who also noted the confusion among commentators, wrote that it refers to the amount of 20 percent enriched material required to begin high level enrichment.
---