Israel scrambles Palestinian 'right of return' with Jewish refugee talk
Some 856,000 Middle Eastern Jews fled their home countries after Israel's founding. If Palestinian refugees are to be considered for compensation, these Jews should be, too, Israel argues.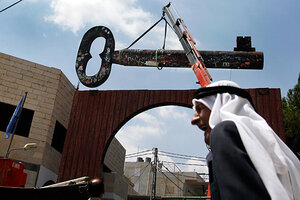 Nasser Shiyoukhi/AP
More than 60 years after the founding of Israel precipitated two tides of refugees in the Middle East, the Israeli government has launched a campaign to persuade the world that it's not just Palestinians who suffered in Israel's early days.
Facing powerful forces that were reshaping the Middle East – including rising anti-Semitism, nascent Arab nationalism, and a strengthening Zionist movement – some 856,000 Jews from Morocco to Iran were compelled to leave their home countries. Most of them settled in Israel.
Partly because of draconian Arab laws issued after Israel declared independence in 1948, these Arab Jews left behind assets estimated at $700 million (about $6 billion today). According to one accounting, that's roughly double the value of Palestinian assets lost.
Now, Israel is demanding that those losses be acknowledged and recompensed in some way. In doing so, the campaign touches one of Palestinians' most sensitive wounds, harbored since Israel's founding in 1948: their right to return to lands and homes left in 1948-49, when at least 750,000 either fled or were expelled by Israel.
Though many Palestinians recognize at least some Arab Jews as refugees, they are concerned that Israel is trying to cancel its debt to them by putting the suffering of Arab Jews on the same international ledger.
The campaign has also met resistance from some Arab Jews in Israel, who have criticized both the logic and the motives behind it. Palestinian and Israeli critics have two main arguments: that these Jews were not refugees but eager participants in a new Zionist state, and that Israel cannot and should not attempt to settle its account with the Palestinians by deducting the lost assets of its own citizens, thereby preventing individuals on both sides from seeking compensation.
---