In Libya, a patchwork of militias keeping the peace, and straining it
The murders of US Ambassador Chris Stevens and three other Americans in Benghazi last month were a reminder that militias can make for poor security forces.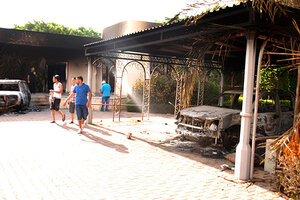 Ibrahim Alaguri/AP
Not too long ago Wasim Ben Hamid's job was to bring Libya's social order crashing down. Now he's trying to build a new one as Benghazi coordinator for the Libyan Shield Forces (LSF), a national umbrella for militias who fought Muammar Qaddafi and are now working with the defense ministry to provide internal security.
Progress has been halting. The enthusiastic young men who triumphed over Qaddafi may not be ideal for day-to-day policing and counter-terrorism work in a country with powerful regional and tribal rivalries and a surplus of weapons.
Mr. Ben Hamid believes his men are up to the task. But the limits of "security by militia" were tragically laid bare by the Sept. 11 attack on the US consulate here that killed Ambassador Christopher Stevens and three colleagues. Regardless of any American security lapses, the bottom line is that both local militias and Libya's nascent official security forces failed to keep the consulate safe.
Afterward, Benghazi residents demonstrated against violence, prompting the Islamist militia blamed for the attack, Ansar al-Sharia, to withdraw from its compound. Locals say Ansar al-Sharia gunmen have disappeared from city streets.
But security across Libya remains fragile, and inter-militia rivalry remains a threat to a country still trying to find its way after four decades of one-man rule.
"The involvement of revolutionary brigades and local armed groups in efforts to end hostilities blurs the line separating neutral mediation from partisan meddling," the International Crisis Group (ICG), a Brussels-based think tank, said in a report last month.
---