Morocco admits to police abuse, tarnishing model response to Arab Spring
Morocco was lauded for its response to last year's democracy protests, but there have been regular accusations of abuse from detained protesters. Two weeks ago, the justice minister admitted it.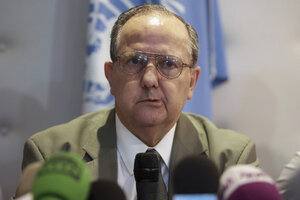 REUTERS
Morocco, which was lauded for responding to last year's democracy protests with constitutional reforms and free elections, may be less of a model for the region than previously believed.
Critics of the monarchy say that the changes were merely cosmetic, intended to paint a rosy picture of the country overseas. A number of activists who were arrested and imprisoned during the protests have recently come forward with stories of torture by police.
After weeks of allegations from activists and the UN's special envoy on the issue, Morocco Justice Minister Mustapha Ramid unexpectedly admitted on Sept. 25 that police were responsible for "cases of abuse" at recent protests – after saying weeks ago on television that he couldn't recall any cases of political detention.
Juan Mendez, the United Nations' special rapporteur on torture, had previously denounced authorities' excessive use of force and said that torture was still frequent in the kingdom, which was praised for its conciliatory response when the uprisings sweeping across the region in 2011 reached Morocco.
The monarchy's rapid acquiescence to some of the demands for political reform of the Feb. 20 Movement, named for the first day of protests, arrested the movement's momentum.
In March, less than three weeks after the first protests began, King Mohamed VI announced a constitutional change that would give more power to both the parliament and the executive branch of government, but retain for the king his religious status and most of his power.
The new constitution was approved by more than 98 percent of voters.
---