Accusations mount of Hezbollah fighting in Syria
If hard evidence emerges of the Shiite militant group's involvement, it would increase tensions in Lebanon where armed partisans on opposite sides live in close proximity.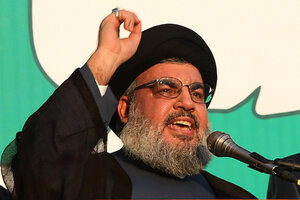 Hussein Malla/AP
Beside the arrow-straight road between the northern Lebanon town of Qaa and the border with Syria stands a small, bland mosque decorated with the yellow flags of the militant Shiite group Hezbollah.
The mosque is the lone Hezbollah bastion amid a flat agricultural landscape populated mainly by Sunni Lebanese and used as a haven by Lebanese and Syrian members of the Free Syrian Army. But parked discreetly – and incongruously – in the shade of a tree beside the mosque is an ambulance waiting to transport wounded Hezbollah fighters returning from fighting against the FSA over the border, says Syrian fighter Hussein, a former irrigation engineer who today heads a small unit of the FSA's Jusiyah Martyrs' Brigade, named after the nearby Syrian border village.
Accusations of Hezbollah involvement in Syria have strengthened in recent weeks amid reports of fighters killed in combat being returned to Lebanon for quiet burial. Hezbollah, along with its patron Iran, are key allies of the Assad regime, together forming an "axis of resistance" that spans the region – to confront Israel and Western ambitions for the Middle East.
---