Israel's Netanyahu banks on tough guy image to win early elections
Israeli Prime Minister Benjamin Netanyahu is campaigning in early elections, announced today for January, as the candidate with a proven record of keeping Israelis safe in turbulent times.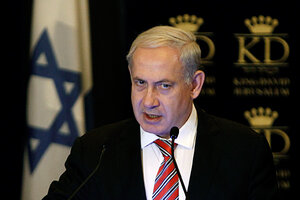 Ammar Awad/Reuters
Israeli Prime Minister Benjamin Netanyahu has come charging out of the gate with his reelection campaign, fashioning himself as a tough leader who is unrivaled in his ability to keep Israel safe and prosperous at a crucial time.
"In less than 100 days the people of Israel will decide who will lead them in the face of the greatest security challenges we have known since the state was established," said Mr. Netanyahu last night, hours before the Knesset voted to hold new elections Jan. 22. "In the seven years that I have served [including his previous 1996-99 term] there were no wars and there was a decrease in terror. There was no war because we projected strength."
But critics contend that the relative stability and security Netanyahu has achieved through his tough policies could be undermined by his failure to address other issues, including Palestinian statehood aspirations, economic woes, and rising tensions between Israel's secular Jews and its rapidly expanding ultra-Orthodox minority.
"After four years with Netanyahu, Israel is less Jewish and less democratic than ever before," said Shaul Mofaz, the current opposition leader and a former defense minister, describing the country today as "weaker, more isolated, more divided, hungrier, and more frightened. This is not the Israel I know – this can't be its image." The comments, translated by the left-leaning Haaretz newspaper, were also made before last night's vote.
A steady hand
---