Palestinian elections: Despite Hamas boycott, Fatah fares poorly
The results announced today add to mounting concerns that Fatah – and the broader Palestinian leadership – is losing its legitimacy.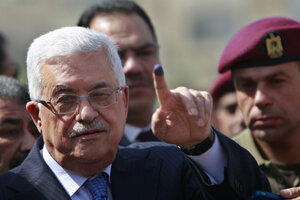 Majdi Mohammed/AP
Jerusalem; and Ramallah, West Bank
Palestinian Authority President Mahmoud Abbas's Fatah party made a disappointing showing in yesterday's local elections, with its chosen candidates failing to secure local majorities in key cities including Ramallah despite a boycott by its chief rival, Hamas.
"This is a landmark of the end of Fatah," says Mahdi Abdul-Hadi, head of the Palestinian Academic Society for the Study of International Affairs (PASSIA).
"In the absence of Hamas … Fatah could not lead completely as expected," he says, pointing to the northern city of Nablus where the official Fatah list got only five of 15 available seats, losing the rest to Fatah independents. "There was no consensus, no leadership coherence, no commitment for the movement."
The Associated Press cited preliminary results showing Fatah failed to receive majorities in five of 11 major towns.
The results add to mounting concerns about Fatah – and the broader Palestinian leadership – losing its legitimacy. Mr. Abbas, who doubles as Fatah chairman, has been unable to secure progress on a variety of fronts, from peace talks with Israel, to reconciliation with Hamas, to last year's membership bid at the United Nations, to an economic crisis that has once again delayed payday for Palestinian Authority (PA) employees – all of whom are still waiting to be paid for September.
---