Netanyahu's Likud party links arms with hardline right ahead of national vote
It's unclear how many of Yisrael Beytenu's controversial policies Prime Minister Benjamin Netanyahu's Likud will adopt.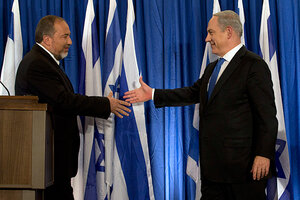 Bernat Armangue/AP
Two weeks into his reelection campaign, Israeli Prime Minister Benjamin Netanyahu has joined forces with one of Israel's most controversial politicians in a bold move apparently aimed at preempting any serious challenge from the center.
The unification of Mr. Netanyahu's Likud party with Avigdor Lieberman's Yisrael Beytenu (Israel is Our Home) party ahead of January elections has the potential to pull Likud further to the right, alienating potential voters or – if the alliance proves victorious – lending credibility to Mr. Lieberman's agenda.
At a press conference tonight, the two leaders vowed that the new alliance would give Israel the experience, strength, and unity needed to face "immense challenges," not least of all Iran's nuclear program.
"This is the time to project strength toward our enemies and unity within ourselves," said Netanyahu, standing side by side Lieberman in nearly identical dress, with blue ties that matched the sea of Israeli flags behind them.
"Unification will give us the power to defend Israel. The power to defend against foreign security threats and the power to enact social and economic change within the country," said Netanyahu, whose administration was rocked by massive social protests last year. "We will ask the public to mandate us to powerfully lead Israel in the coming years."
What kind of alliance?
Netanyahu and Lieberman gave few clues as to what sort of coalition they might build, which they will almost certainly need to do. Even together they are not expected to win a majority of the Israeli parliament's 120 seats, but with an estimated 50 seats between them they will have greater leverage over small parties who demand political favors in exchange for joining the ruling coalition.
---