In Aleppo, Syria cease-fire was short-lived
Syrian rebels made advances in Aleppo last night. This morning, as the UN-brokered cease-fire went into effect, the Syrian Army retaliated.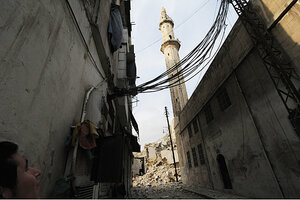 Scott Peterson/The Christian Science Monitor/Getty Images
Regime and rebel forces engaged in clashes in Syria's largest city today, breaking a cease-fire agreement only hours after it got underway.
United Nations special envoy to Syria Lakhdar Brahimi brokered the deal, timed to coincide with the Muslim holiday Eid al-Adha, in hopes that a temporary cessation of violence would provide a window for work to begin on negotiations.
Rebel forces said the Syrian Army attacked this morning, the first day of the four-day holiday, after rebels made advances in the city last night for the first time in weeks. The government had previously said it would hold to the cease-fire only if the rebels did; some rebel commanders said the same, while others refused to agree to any break in the fighting.
The Syrian Army intermittently shelled rebel forces and the two sides exchanged gunfire on multiple fronts in Aleppo today, where the government and the rebels have been locked in a fierce battle for Syria's manufacturing and industrial center since July. However, the light clashes were nothing like the intense battles that raged in the city weeks ago.
Not long after sunset, a large shell exploded over the city, leaving a plume of black smoke. In the neighborhood of Karm el-Jebel, the commander of the rebel brigade fighting in the area said regime forces began attacking in the morning, and shelled rebel positions with two tanks in the afternoon.
---