Yemen's 'Death to America' rebels bring calm to northern Yemen
The Houthis, a Shiite rebel group that battled the government in northern Yemen for years, has brought stability and investment to its territory. Its rise could threaten US-Yemen cooperation.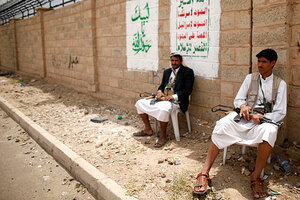 Khaled Abdullah/Reuters/File
Barely a decade ago, the Old City of Saada was tentatively placed on the list to become a UNESCO World Heritage Site. Once an impeccably preserved relic of medieval Arabia, the ancient settlement is now largely in ruins. Centuries-old homes lie wrecked, their mud brick construction crumbling. Bullet holes pock-mark the walls of ancient mosques.
For many here, the irreplaceable loss of one of Yemen's most prominent historical sites exemplifies the senseless destruction wrought upon the region during years of clashes between government forces and the Houthis, a Zaydi Shi'a rebel group that has battled Yemeni troops and allied tribal fighters since 2004.
While a tentative calm has been restored in recent months, the violence continues to cast a pall over this rugged mountain town, which now lies under the effective control of the rebels. Once forced to operate largely from secluded mountain hideaways, the Houthis' dominance is now unquestionable in the provincial capital of Saada. The government managed to maintain control of the city throughout most of the years of fighting, but in the power vacuum that emerged as former President Ali Abdullah Saleh struggled to hold on to power in 2011, the Houthis were able to wrest control from government hands.
---