Yemenis suspect Iran's hand in rise of Shiite rebels
The growing influence of Yemen's Houthis, a group of Shiite rebels, has disrupted the long amicable Sunni-Shiite relationship here, with Sunnis suspecting Iranian interference.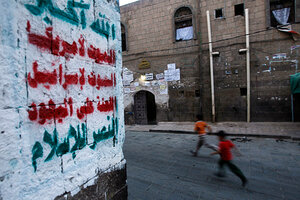 Khaled Abdullah/Reuters/File
While the graffiti on the walls of Rayda's bullet-scarred Awadin Mosque condemns the United States and Israel, the clashes that briefly transformed this agrarian town into a war zone were fought between local foes.
The fighting in Rayda was just the latest flare-up in a series of violent clashes in Amran and neighboring provinces that have pitted backers of the Houthi movement against their largely Sunni Islamist foes. And while its roots seem to be local political maneuvering, many here see the tensions as a result of Iranian interference in northern Yemen.
Yemen's far north has long been wracked by fighting between Houthi rebels and various foes. From 2004 to 2010, the Houthis were the target of a series of offensives launched by the Yemeni government and their tribal fighter allies, who saw the Houthis as an Iranian-backed group intent on destabilizing the country.
When the government's control over much of Yemen weakened during last year's uprising against Ali Abdullah Saleh, the Houthis were able to effectively gain control over the northern province of Saada and areas of neighboring provinces. Even in the capital, Sanaa, the Houthis have emerged defiantly. Graffiti bearing the group's vitriolic slogan, "God is Great, Death to America, Death to Israel, Damn the Jews, Victory to Islam," is a frequent sight on the capital's streets.
Representatives and supporters of the Houthis characterize the group's growth as a natural result of their widespread support, saying the group has gained the trust of Yemenis due to its commitment to clean governance and its uncompromising opposition to the current government's alliance with the United States' government.
---