Israel moves quickly to congratulate Obama
Netanyahu paid tribute to 'rock solid' ties between the US and Israel. Many Israelis are worried about how the frosty first-term relationship will affect Obama's actions during his second term.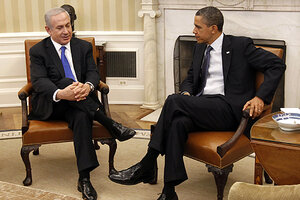 Pablo Martinez Monsivais/AP/File
Israeli leader Benjamin Netanyahu was quick to congratulate President Obama on his reelection by paying tribute to an US-Israel alliance that, in his words, is "rock solid," though the upbeat statement belied widespread anxiety by Israelis that the leaders' rocky relations would continue to cloud ties.
Now that Mr. Obama is free of the constraints of reelection, Israelis worry that he will feel less compelled to mollify Mr. Netanyahu on disputes over the Palestinian peace process and blocking Iran's nuclear program. Obama has pushed Israel to renew talks with the Palestinians and has refused a request from Netanyahu to publicly set a "red line" for military action against Iran's nuclear program.
Alluding to the tension with language that seemed lifted from GOP candidate Mitt Romney's talking points, parliament member Danny Danon, a member of Netanyahu's Likud Party, expressed hope the president "resets his course relating to Israel and our region for the next four years. Rather than dictating ill-advised policies that endanger the wellbeing of America's only true ally in the Middle East, now is the time for President Obama to return to the wise and time-honored policy of 'zero daylight' between our respective nations.''
---