How one Syrian family braves life in a divided Aleppo
The battle for Aleppo has destroyed entire neighborhoods and pushed thousands of residents to flee. For many left behind, savings have been spent and survival is a daily focus.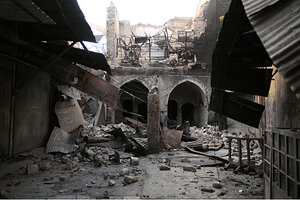 Monica Prieto/AP
At a charity center recently set up in a former school in a shabby neighborhood of Syria's largest city, a woman shows up seeking milk for the tiny baby she's holding.
She says Shahinaz, who is wrapped up in blankets and sleeping quietly, is a month old, but the child looks more like a newborn. The distribution center volunteers give her milk for the baby, but that's not all she needs.
"There is no milk. There is no gas. There is no sugar. There is no water," says the woman, who gives her name as Souda. Shahinaz is her
granddaughter. "There's been no work for my husband since the first day of Ramadan," she says. That was in July.
The battle for Syria's largest city has destroyed entire neighborhoods and pushed thousands of residents to flee. For some of those left behind, who choose not to leave or simply have nowhere else to go, it has turned their daily lives into a struggle for survival.
In neighborhoods where rebels battled regime forces, apartment buildings lie in piles of rubble, the strewn personal belongings the only trace of former inhabitants. When rebels push the front line forward several blocks, capturing new territory, residents come back to retrieve what they can salvage of their belongings. They push carts loaded with washing machines, or drive trucks piled with mattresses and furniture through the rubble, relying on rebel checkpoints to help them avoid sniper fire.
In neighborhoods like the one where Souda lives, most of the houses are intact, but not all of them. Walking back to her home from the distribution center, she passes a house reduced to rubble by a bomb in September. A purple high-heeled shoe, covered in concrete dust, hangs from a piece of iron rebar sticking out of the heap.
---