Sudan's Bashir threatens Israel over alleged airstrike
Sudan's President Omar Hassan al-Bashir vowed today to retaliate against Israel for a recent alleged airstrike. The Monitor explains the background of the dispute.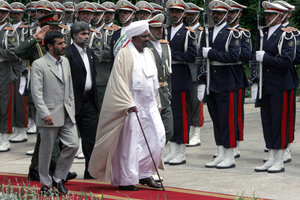 Hasan Sarbakhshian/AP
Sudan accuses Israel of bombing an arms warehouse or factory Oct. 24. Israel has no comment, but accuses Sudan of making or transporting arms for Iran. The recent arrival of two Iranian warships in Sudan seems to indicate strengthening ties. The Sudanese government, meanwhile, is convinced it is the victim of an Israeli attack. Today, President Omar Hassan al-Bashir threatened Israel with retaliation, saying "Israel will remain the number one enemy, and we will not call them anything except the Zionist enemy."
Did Israel really bomb a Sudanese weapons factory?
Probably. Iran and Sudan blame an air attack by the Jewish state for the explosion Oct. 24, which caused a fireball at the Yarmouk weapons complex outside Khartoum. Sudan says it claimed three lives. Israeli officials have refused to confirm or deny involvement, while practically in the same breath condemning Sudan as a conduit for Iranian arms heading toward the Gaza Strip.
When Amos Gilad, an aide to Israeli Defense Minister Ehud Barak, was asked by an Israeli television station about possible Israeli Defense Force involvement, he refused to answer the question, while stressing that Sudan supports "terrorism."
---