Israeli tanks hit inside Syria, but Israel not eager to enter conflict
Israel is likely to stick with its policy of just rooting for the downfall of President Bashar Assad while refraining from throwing its lot in with any of the opposition groups.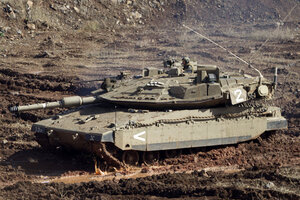 Ariel Schalit/AP
Israeli tanks on the Golan Heights fired on and hit a Syria artillery battery on Monday in response to cross-border mortar fire, marking the first time after 18 months of watching the Syrian conflict from the sidelines that the Jewish state has allowed itself to participate.
The Israeli fire, the first hit inside Syrian territory since the 1973 Israel-Arab war, follow weeks in which the Israeli army held its fire as the civil war increasingly spilled across the border with mortar and bullet fire. Syrian tanks also have been entering a United Nations patrolled buffer zone.
But because the Golan spillover is still viewed as the result of errant fire rather than intentional, the conflict hasn't yet reached a tipping point that will force Jerusalem to become embroiled like Turkey and Jordan, say analysts.
---