How water could bring Israelis, Palestinians together
A sole joint committee between Israelis and Palestinians survives 17 years after the Oslo Accords: the one on water.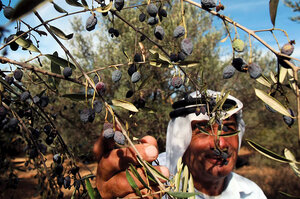 Jaa far Ashtiyeh/AFP/Getty Images/File
Khaled Mukarker lifts a makeshift lid on his well, pulling up a dusty measuring tape. Only about 10 feet of water remains in the 135-foot hole.
In the past decade, his well level has dropped by 30 feet and the local Al Ouja spring has largely dried up, Mr. Mukarker says. His land once supported four relatives and their families, but now he's the only one left, eking out an existence with his rough hands and a posse of hungry cats to keep the vermin in check.
On a recent afternoon, he trudges down a dirt track to all that's left of the 17 acres of banana plants he once had.
"I used to give them water once a week to give them a life," he says, pointing to the yellowing 3/4-acre plot. "Now I haven't watered them in a month."
Mukarker has taken innovative steps to adapt to the drier conditions, but he finds himself at the confluence of larger forces. Water has become an increasingly political issue as the Israeli and Palestinian populations expand, straining not only water supplies but also the framework for governing them.
The Joint Water Committee (JWC), an Israeli-Palestinian group set up in 1995 under the Oslo Accords, was never meant to be a permanent body for managing water resources. Like many other Oslo-era arrangements, it was intended as more of a temporary tent until the Palestinian house could be built.
Some 17 years later, with no Palestinian state in sight, the troubled workings of the JWC illustrate the difficulties Israelis and Palestinians face in piecing together a tenuous coexistence under an interim tent tattered by lack of trust.
But despite the current challenges, better water management – perhaps more than any of the other five issues to be determined in final-status negotiations – holds the possibility for improved cooperation and trust-building, because the welfare of both peoples is linked by their dependence on this vital shared resource.
---