Israeli assassination in Gaza risks wider conflict
If the Palestinian group Hamas makes good on promises of revenge for the killing today of its top military chief, the situation could deteriorate.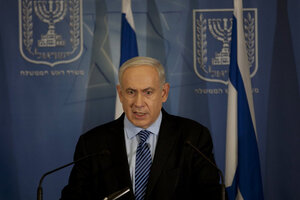 Ariel Schalit/AP
Gaza City, Gaza; and Beirut
Israeli Prime Minister Benjamin Netanyahu made a bold move today with the assassination of a top Hamas military chief, whose attacks against the Jewish state makes him something of an Osama bin Laden for Israelis.
Mr. Netanyahu's reelection campaign could be boosted by the attack on Ahmed al-Jaabri – particularly in southern Israel, where residents have been protesting the recent uptick in rocket attacks from Gaza. But if Hamas and its allies make good on promises of revenge, Israel could face serious repercussions ­– and find itself pulled into a wider conflagration, given the heightened instability of the region.
"The ball is in Hamas's court now. I think Israel is satisfied with the killing of Jaabri, but if Hamas responds to the killing, I think Israel will widen its operation in Gaza," says Mukhaimer Abu Saada, professor of political science at Gaza's al-Azhar university.
The Israeli military justified the operation – called Pillar of Defense – by saying that Gaza has become a forward base for Iran, which backs Hamas and Islamic Jihad. The number of rockets fired from Gaza this year already exceeds the total for last year, with a sharp rise in recent weeks, putting 1 million Israelis in danger. The killing of Mr. Jaabri, along with at least seven other Gazans in a round of air and naval strikes, comes days after Israel warned it may renew targeted assassinations against militants in Gaza.
---