Hamas wins over its doubters in Gaza with battlefield prowess
Economic stagnation and political frustration steadily eroded Gazans' support for Hamas after it took over in 2006, but support is rebounding because it is seen as standing up to Israel.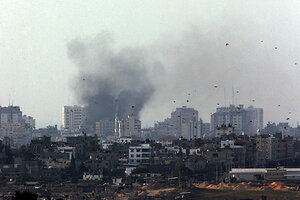 Lefteris Pitarakis/AP
Gaza City, Gaza; and Jerusalem
Hamas's headquarters, commanders, and weapons caches may have taken big hits in the past week, but not its popularity, which appears to be rebounding. Gazans fed up with the Islamist organization's government of Gaza, including its high taxes, alleged corruption, and strict interpretation of Islam, have put such concerns aside to champion the group's willingness to take a stand against Israel.
Even supporters here of Fatah, Hamas's bitter rival, are rallying behind it.
"Hamas's popularity is getting bigger in Gaza, not only because it has been delivering blows to Israel, but also because it is not … [what] ignited the violence, like the previous war in 2008," says Mustafa Ibrahim, a writer and political analyst from Gaza. "This time Gazans are sympathizing with the resistance that's led by Hamas."
After winning 2006 elections by a landslide, Hamas saw its support steadily slip – particularly after the 2008-09 war with Israel, which left more than 1,300 Palestinians dead and reduced many buildings to rubble. Gazans had enormous difficulty rebuilding, particularly in the months following the war, due to an economic blockade imposed by Israel and supported by Egypt under former President Hosni Mubarak – a policy which critics said was collective punishment aimed at turning Gazans against their Hamas rulers. Its failure to reconcile with Fatah after violently ousting the faction in 2007 also dampened local support.
Hamas shows prowess
---