Syrian rebels put choke hold on government supply lines
The Free Syrian Army has captured several critical areas from the government this week, curtailing delivery of supplies to those they are battling for control of Aleppo.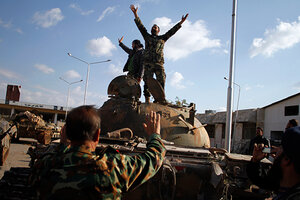 Khalil Hamra/AP
After months of fighting, Syrian opposition forces in Aleppo say that in the past week they've captured several critical areas from government forces that may soon give them the upper hand in northern Syria. The new ground will allow opposition groups to strain or potentially cut off supplies to government troops fighting in Aleppo Province.
Most recently, members of the Free Syrian Army captured a base that belonged to Syrian President Bashar al-Assad's 46th regiment. Control of the base, located to the west of Aleppo, will now allow FSA fighters to cut off a critical supply route and bring them closer to connecting with the adjacent Idlib Province. The capture was also a boon because the base contained much-needed munitions and tanks for ill-equipped opposition forces.
Several days before capturing the new base, rebels managed to bolster their own supply lines by taking control of the Kindi University Hospital in Aleppo. Perched atop a hill on the northern edge of the city, the Assad Army had been able to use the facility to close off a major road that connected Aleppo to the northern towns between the city and the Turkish border.
FSA fighters say the final step to closing off supply lines for the Syrian Army in Aleppo will mean taking control of the city's airport, which the opposition group says it is now close to doing. As the group takes hold of an increasing share of ground and cuts off more government supply routes, however, it's confronted with the realities of trying to advance farther with extremely limited supplies.
---