Rebels question continued protests in 'Free Syria'
Protests gave birth to the anti-Assad uprising, but now some in Syria say they simply make for an easy target for regime planes. Others say they're important to keep new leaders accountable.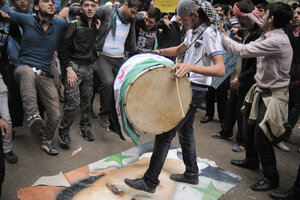 Monica G. Prieto/AP
Months after Syrian opposition forces brought several areas of Aleppo Province under their control, Syrian activists still demonstrate regularly, much as they have since the beginning of the uprising.
Last Friday, more than 100 demonstrators gathered in Bustan al-Qasr, one of Aleppo's calmer neighborhoods, for a protest against the Assad regime and to call for closer oversight of the rebels' Free Syrian Army. The protest leaders even decided to do a live broadcast of the event.
As the event wound down, a lone mortar shell landed in the middle of the crowd, killing 14 people and injuring 21. Government forces often target such gatherings and can easily do so when their exact location is being broadcast in real time.
Syrians are now questioning whether such protests in opposition-controlled areas are still warranted, given the risks and the fact that they are calling for change amid an audience that is already in agreement.
"Protesting now is something wrong. This is the second time in a month that protests have been shelled like this. In a free place like Aleppo, there is no need for protests," says Abu Nazir, an FSA commander in Bustan al Qasr. "We want the activists to stop protesting because they're targeted by shelling and Bustan al-Qasr is now full of refugees because it's a peaceful area of Aleppo. We don't want it to get shelled."
But many activists push back, saying that to stop protesting would be a betrayal of the cause, and that protest remains an important tool for change within their own transitional leadership.
Don't give away positions
Mr. Nazir says the FSA will not stop anyone from protesting, but if they choose to continue, they must no longer televise live broadcasts of the protests or stay in one place for an extended period of time.
Some protesters concede that the demonstrations in so-called free areas of Aleppo no longer carry the same weight at this point that they did in the beginning. But, they say, what matters now is instilling a culture of civic activism that they hope will keep future leaders in check. Activists say protests are often just as much about new leaders as they are about Assad, and few are ready to give up the tool that launched an uprising that they hope will eventually unseat their embattled president.
---