Tentative ceasefire agreed between Hamas and Israel
A ground war may have been averted thanks to US pressure and Egyptian diplomacy. But how long the Gaza Strip ceasefire between Hamas and Israel will last is the question.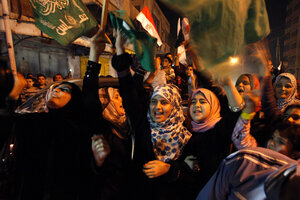 Ahmed Zakot/Reuters
Israel and Hamas agreed to end the conflict in Gaza in an agreement mediated by Egypt.
Both sides claimed victory after the ceasefire was announced in a press conference involving Egyptian Foreign Minister Mohamed Kamel Amr and US Secretary of State Hillary Clinton in Cairo.
According to the terms of the deal, Israel will end all hostilities in Gaza -- including assassinations of Hamas leadership -- and Palestinian militants will end all rocket and ground attacks against Israel. It also stipulates that the crossings into Gaza will be opened to both goods and people, which, if fully implemented, would be a significant change for the territory that has been under an Israeli economic blockade since 2007. Egypt will act as a guarantor of the agreement.
"This is a critical moment for the region," Secretary Clinton said as the agreement was announced. "Egypt's new government is assuming the responsibility and leadership that has long made this country a cornerstone of regional stability and peace."
Many in the region are holding their breath to see if the truce holds. Hamas has agreed to stop firing rockets, but it must also keep smaller, militant organizations from breaking the truce by firing rockets of their own. Many in the Arab world are skeptical that Israel will hold up its end of the deal. In the hour after the deadline passed, militants launched roughly a dozen rockets into Israel.
But If the ceasefire lasts, it could represent an achievement for Egypt's new president Mohamed Morsi, who has sought more diplomatic prominence for Egypt. It would also enhance the standing of Hamas and could revitalize Gaza if the border crossings, particularly the one with Isreal, are opened to normal trade.
---