Decades after king's toppling, Iraq revisits its royal history
The date of the assassination of Iraq's last king – July 14, 1958 – has long been a national holiday. In a sign of changing attitudes, some politicians say it's time to rethink that.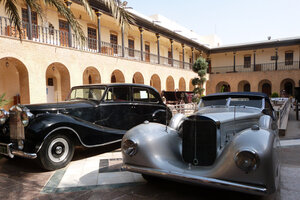 Jane Arraf
More than half a century after Iraq's monarchy was toppled in a violent coup, Iraqis are coming to grips with a controversial part of their history that some consider the country's golden age.
July 14, when King Faisel II and members of his family were killed in 1958, is celebrated as a national holiday here. Bridges and roads are named after that date.
But there are calls by some politicians to revoke those celebrations. The Iraqi post office, responding to popular demand, has issued stamps commemorating Iraq's King Faisel and his son and grandson who later took the throne.
And at an unprecedented exhibit of photographs and royal memorabilia recently, hundreds of Iraqis came daily to marvel at a history some didn't know they'd had, or reminisce about a more peaceful time.
Raghad al-Suhail, a university professor and writer, is too young to have known the royal family, but she peered at the photographs as if searching for old friends.
Her father, she says, was the last person to play tennis with King Faisel II before he and his relatives were shot dead by a group of Army officers. Seeing the photos makes her want to cry.
"I loved King Faisel – all my family loved him," she says. "He made Iraq. He built Iraq…. Who came after King Faisel and what did they do for us? The one who built Iraq, who said to the world, 'we have a place which is called Iraq,' was King Faisel."
In the photographs, Iraq's last king is eternally young – both the boy and the country at an age where everything seemed new and full of promise. In some photos, he poses delightedly in the new motor-cars, which were still sharing the roads with horse-drawn carriages. In others he's a young boy playing football with his friends or fixing his bike.
---