Ceasefire opens up deeper waters for Gaza's fishermen
For the first time in years Gazans can fish farther off their coast and catch more fish, thanks to the terms of a new ceasefire with Israel.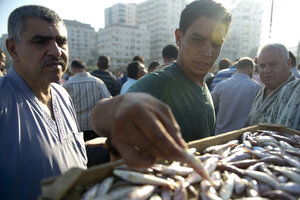 Ann Hermes / The Christian Science Monitor / File
For the first time in more than three years, Gaza fisherman Mushtaq Zedan took his boat out Saturday to the deeper, more abundant waters that were off limits to him under the Israeli blockade.
"It was like a dream when I reached the six mile limit," says Mr. Zedan, a father of four who inherited his fishing job from his own father, of his first trip out past the three-nautical-mile limit set for Gaza fishermen by Israel more than three years ago, which kept him in shallow, over-fished waters. "Fish are always in the deep water," he says, explaining why his catch has been paltry in recent years. "But after the new procedures, we can catch more fish and life will get better again."
Today's catch included about 88 pounds of Black Seabream and other fish, far more than the usual haul in recent years. "I never had the chance to catch this much fish in the past three years. I think life will smile once again," he says.
Zedan's increased fishing territory is one of the first manifestations of the truce between Israel and Hamas last week that ended the eight-day Gaza conflict, which killed six Israelis and 166 Palestinians. Gaza has been under an Israeli blockade since the Islamist group Hamas took control of the tiny territory in 2007. Though somewhat eased in recent years, it still limited the goods that come into the territory, prohibited most exports, and limited movement in border areas, including in the waters near Gaza's shore and the farmland near the border fence with Israel.
---