Jordanians send message to opposition: Let's take it slow
Popular opposition to the Jordanian monarchy is strong, but it will not manifest itself in massive anti-government uprisings like elsewhere in the region.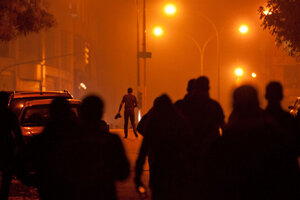 Jared J. Kohler
Jordanians poured into the streets this month, staging hundreds of protests after the government announced that it was reducing fuel subsidies. A number of them devolved into riots or clashes between police and protesters as demonstrators chanted, "The people want the fall of the regime."
After two frustrating years of minimal gains, some opposition members seemed to even welcome a confrontation, or at least see it as an opportunity to pressure the regime.
But the anger that drove November's protests quickly faded: Opposition leaders continued to call for demonstrations, but fewer people showed up. By Nov. 23, the now-traditional Friday protest in Amman drew only a few hundred demonstrators who braved the rain. For the moment, Jordan's fuel price crisis appears to have ended, and its swift conclusion suggests the opposition underestimated how high a premium most Jordanians place on stability.
Activist Mothanna Gharaibeh says the angry rhetoric of protests earlier in the month has actually scared people away.
"Those 'revolution' people, they don't really understand how strong the regime is," Mr. Gharaibeh says.
Despite the slow pace of reform, when the University of Jordan's Center for Strategic Studies asked Jordanians in October if they believed political movements should continue protesting in the street until their demands were met, or if they should participate in elections and try to achieve their desires through Parliament, an overwhelming majority chose elections.
---