In Egypt and Tunisia, Salafis move from prisons to parliaments
After the Arab Spring uprisings, it's inevitable that Salafis will help steer the evolution of North Africa's new governments. The challenge is to make sure they do so peacefully.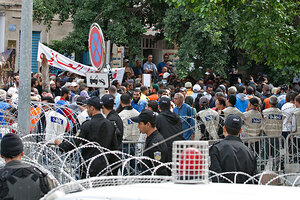 Amine Landoulsi/AP
Tunis, Tunisia; Tripoli, Libya; and Cairo
Mehdi Mezmi rediscovered Islam eight years ago via a website, then illegal to access in his native Tunisia, called Minbar at-Tawheed wal Jihad – "The Forum for God's Oneness and Holy Struggle."
It seemed to him a dark time for Islam. Afghanistan and Iraq were under US assault. At home, President Zine El Abidine Ben Ali was jailing the pious under a new anti-terrorism law. Mr. Mezmi read about the struggles of the early Muslims, and was inspired.
"I felt the prophet was talking about our times and what was happening in the world," he says.
Today Mezmi works as a tugboat engineer in Tunis. He's also part of a deeply conservative – and sometimes violent - Islamic current known as Salafism that has gathered force in North Africa since the 2011 uprisings. It's inevitable that Salafis will help guide their countries' evolution. The challenge for governments is to make sure they do so peacefully.
Salafis made international headlines in September with assaults on US embassies in Libya, Tunisia, and Egypt. While they have mainly acted as pressure groups so far, some leaders fearful of violence want to steer Salafi activists into politics instead.
---