Can lessons from Iraq be applied to US-Iran tensions?
A declassified CIA report on Iraq says numerous intelligence lessons have been learned from the search for WMD. But the political dynamic around Iran's nuclear program is a different matter.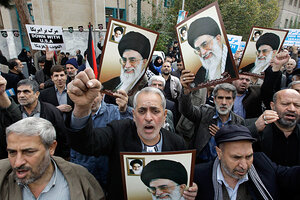 Vahid Salemi/AP/File
More than nine years after US forces invaded Iraq, the CIA's declassified analysis of mistakes over Iraq's weapons of mass destruction is rich with lessons that apply to Iran, as talk of another war simmers.
The outlines of the US intelligence failure on Iraq are well-known: Expectations that Saddam Hussein had a dangerous arsenal of chemical and biological weapons, and even fresh nuclear ambitions, proved to be an illusion.
Less understood are how the Iraq conclusions are being applied to understanding the Islamic Republic and its nuclear motivations. Signs abound that the US has learned numerous intelligence lessons; but the fraught political dynamics that can lead to war persist.
"Analysts tended to focus on what was most important to us – the hunt for WMD – and less on what would be most important for a paranoid dictatorship to protect," says the January 2006 report, one portion of what the CIA calls its "Iraq WMD Retrospective Series." Labeled "Secret," it was declassified this summer and published in September by the National Security Archive at George Washington University in Washington, though entire sections of the document are excised.
---