As Syria's rebels close in, Assad has three options
The most likely is a retreat into the mountains controlled by his minority Alawite community.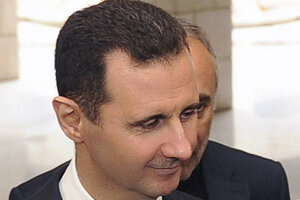 SANA/AP
The magnificent views across Damascus from the presidential palace on Mount Qassioun are unlikely to provide much comfort these days for Bashar al-Assad, Syria's beleaguered head of state.
For several weeks, the skyline to the north, east, and south has been stained by black columns of smoke from artillery explosions and airstrikes as Syrian government forces struggle to prevent the Free Syrian Army (FSA) rebels from inching ever closer to their goal of unseating Mr. Assad's regime.
After 20 months of confrontation, Assad's hold on power is looking increasingly frail, leaving him and his regime with few remaining options.
"There is no doubt that the regime's capacity is declining and that the FSA continues to become ever stronger and better armed," says a European diplomat closely following developments in Syria.
The current status of the regime is uncertain and it is not even clear if Assad is still in charge. The diplomat says that Assad appears to have become a "prisoner of his own system," no longer playing an active leadership role and confined to his palace. Instead, there are indications that an informal "security council" has emerged consisting of between 50 to 100 top regime and military figures drawn from the minority Alawite community, which is handling the daily confrontation against the armed opposition.
Three options
---