If change comes to Jordan, it won't start in Amman
Since street protests began last year, Jordanians have warily eyed the southern towns that make up the regime's loyalty base. Residents there remain divided over where they stand on reform.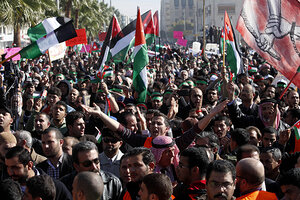 Mohammad Hannon/AP
On a sunny Friday afternoon, about 70 protesters make their way down the main street of this small town in southern Jordan, snarling traffic on the narrow road and drawing black looks from motorists. More or less the whole town has just emerged from Friday prayer, and the street is packed with people shopping, chatting, or heading home for lunch. Many simply stand and watch the protesters go by, with expressions ranging from admiration to curiosity to derision.
The Tafileh governorate is the smallest in Jordan, with a population of only 85,000 people. Its central city is geographically isolated, in a hilly area bypassed by both of the country's main north-south highways. It's hard to imagine a tiny protest in this tiny town making waves across the kingdom – but a series of demonstrations in 2011 and 2012, punctuated by arrests and clashes with the police, did just that. While the protests in Amman have been far larger, it is Tafileh that makes the Jordanian government nervous.
The town has a reputation for loyalty to the regime. Unlike the big urban centers, which are heavily populated with Jordanians of Palestinian origin, most of Tafileh's residents are East Bank Jordanians, from the big southern tribes still regarded as the bulwark of support for Jordan's Hashemite monarchy. East Bankers have long received the lion's share of government jobs, and make up the backbone of Jordan's police and security services.
Essentially, analysts say, if protests can take hold in Tafileh, there's a good chance the foundations of the regime are shaky.
Many Jordanians downplay this argument, saying the demonstrations in Tafileh and other rural towns are purely economic, driven by high unemployment, and do not represent dissatisfaction with the political system – a contrast to the demands for democratization raised in large urban protests.
---