Israel tells underweight models to gain weight or get off the runway
In a bid to combat growing rates of eating disorders, Israel's 'photoshop law' bans unnaturally thin models from the catwalk and restricts ads that are digitally altered to make models look skinnier.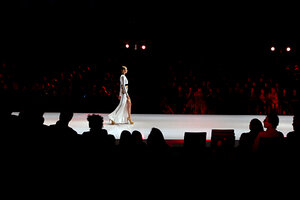 Ariel Schalit/AP
"You're a knockout! Did you gain a little weight?" Israeli fashion photographer and model agent Adi Barkan crows as he greets one of his top models, a towering brunette decked out in a chic black minidress surrounded by the exuberant chaos of the photo shoot in downtown Tel Aviv.
This is a celebratory week for Mr. Barkan, as a new law championed by the fashion giant took effect Jan. 1, banning the use of underweight models in local ads and on the catwalk. Its aim is to help curb a rise in eating disorders among those in the fashion industry and the general public.
"Beautiful is not underweight, beautiful is not anorexic," says Knesset member Rachel Adato, who helped push the law through. "A revolution has begun against the perception of beauty in Israel, [and] this law shatters the anorexic ideal serving as an example for the country's youth."
Daria Keller, one of Barkan's star models, came to the Simply-U agency from an agency where she says they tried to convince her that her "fullness" would stand in the way of her career. Barkan says she has the perfect measurements. Today, she smiles into the camera with natural confidence.
"When I was 16, I ate only an apple for three full days, but now I want to stay as Daria," says Ms. Keller, who has been modeling since that age.
The new law, known as the "photoshop law," requires models to present their employers with a current doctor's note confirming that they meet a minimum body mass index (BMI) – a calculation of weight to height proportion – of 18.5, which is considered the lowest threshold for a healthy weight. Advertisements featuring models who are "photoshopped" or otherwise digitally altered to make them appear thinner must be clearly marked as manipulated images.
'We are the problem'
---