As Tunisia's Ennahda falters, supporters wonder if it can handle the heat
Tunisia's leading party, the Islamist Ennahda, is struggling to deliver prosperity and stability. Even some supporters who flocked to the party after the revolution are questioning its performance – and what it should do next.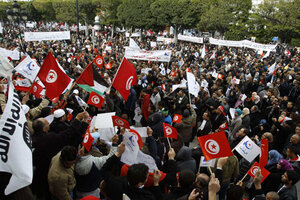 Zoubeir Souissi/Reuters
Before revolution toppled Tunisia's dictator, Zine El Abidine Ben Ali, Ghada Mtiri's head scarf could get her into trouble with the police. Afterward, she campaigned for one of his chief victims, the moderate Islamist Ennahda (Al Nahda) party.
For her, Ennahda has stood for democracy, respect for religion, and the idea that "no one person can oppress another," she says.
Now the party is under fire for what critics call a dismal leadership record. The murder last week of an opposition political leader ignited a smoldering crisis over how to replace a discredited cabinet – and how to get the original Arab Spring country back on track.
Tunisia has moved steadily toward democracy since Mr. Ben Ali's departure in January 2011. But last week's killing unleashed anger over what many call the government's failure to ensure security and prosperity.
Prime Minister Hamadi Jebali, from Ennahda, has announced a plan for a new cabinet of technocrats, and is asking for the backing of both the parties in government and those in the opposition. If he does not get enough parties to support his proposal, he says he will step down.
For Mtiri and other young Tunisians who rallied to Ennahda's banner, the crisis is an opportunity to reflect on the progress, setbacks, and lessons of the past two years.
"This phase is not for a single party," she says. "This phase is for leaving aside the question of identity and building institutions."
An end to persecution
Mtiri is a young woman with an easy smile from Sidi Hassine, a working-class district of the capital. In 2009, while studying at the Ecole National d'Ingénieurs de Tunis, she began wearing an Islamic head scarf.
It was a risky move. Ben Ali's regime forbade the head scarf in state institutions and harassed women who wore it. Soon enough, Mtiri was stopped by police near her engineering school.
---