The Cyrus Cylinder, symbol of Persian tolerance, heads to US
The 2,600 year old Cyrus Cylinder, a promise of tolerance from the ancient Persian King, is heading to the US for the first time.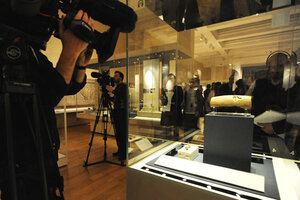 Scott Peterson/Getty
Can an ancient hunk of clay bearing a message of tolerance from the Persian Empire help Americans and Iranians chip away at a generation of mutual hostility?
The Cyrus Cylinder arrives in the United States for the first time this week, a 2,600-year-old symbol of enlightened rule that heralded the freedom of the Jews after the capture of Babylon by the Persian King Cyrus the Great.
The size of a football with tapered ends and some shards lost to the centuries, the Cyrus Cylinder today represents a potent blend of Persian pride and tolerance and respect for others and their beliefs, and is regarded as one of the most iconic objects of the ancient world.
Inscribed upon the baked-clay cylinder in spiky cuneiform script is a proclamation made by Cyrus when he conquered Babylon in 539 BC. Noting that he was "king of the universe" – the Persian Empire then was the largest the world had ever seen – Cyrus describes how, with the help of the "great lord," he peaceably captured Babylon and set free captured minorities, including the Jews.
"I permitted all to dwell in peace," reads the last line on the cylinder.
The significance of the object, and the promise it holds of introducing Americans to an aspect of Iranian heritage far from the usual drumbeat of nuclear talks and angry rhetoric, was made clear at a recent send-off ceremony at the British Museum in London, where the cylinder now lives. It was discovered in present-day Iraq by a British expedition in 1879.
A greater union
"What the Cyrus Cylinder does is remind us of the greater union we all have with one another. We are not islands, no man is an island, no culture is an island," said Karen Armstrong, a well-known religious scholar, at the British Museum send-off of the cylinder to the US.
---