Behind Turkish-Israeli reconciliation, concerns about Syria
The deal will help rebuild intelligence links between Turkey and Israel. The Turks do not want to be caught off guard by any use or transfer of chemical weapons in nearby Syria.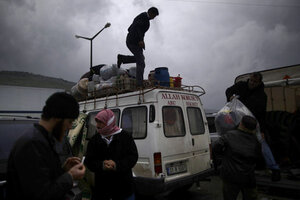 Muhammed Muheisen/AP
Jerusalem; and Istanbul, Turkey
Israel and Turkey have gotten back together after nearly three years, not so much because they're in love but because of mutual concern that Syrian chemical weapons could fall into the wrong hands.
The renewal of full diplomatic ties between Israel and Turkey, brought about March 22 with strong US pressure, will enable the estranged allies to better thwart jihadi groups who have penetrated Syria and prevent them from acquiring weapons of mass destruction. In a region roiled by upheaval and rising concern about Syria, the reconciliation marks a welcome step of progress – one that caught many by surprise.
"We're all very excited…. The first thing to do is to sit together – probably not just one on one, but with Americans in the room – and share intelligence," says an Israeli official, adding that Jordan will also be brought into the discussions about how to secure Syria's borders. "As for us, we're not in the business of sending ground troops to Syria. But other types of action may be possible, such as destroying certain targets from the air."
The potential for such cooperation was enough to woo a recalcitrant Turkey to agree to normalize relations after the May 2010 Mavi Mamara incident, in which Israeli naval commandos killed nine Turks – one of them a Turkish-American – when they raided a flotilla attempting to break Israel's economic blockade of Gaza.
"Turkey's intelligence assets are not anywhere near Israeli intelligence assets," says Michael Koplow, an analyst of Turkish and Israeli affairs at the Israel Institute in Washington, who recently returned from a two-week trip to Turkey.
"The Turks don't want to be caught with chemical weapons deployed in Aleppo, which is only 50 miles from Turkish border, and not know about it ahead of time," says Mr. Koplow, author of the blog Ottomans and Zionists. "It's at a point where they need the Israelis' cooperation."
US pressure brings reconciliation
---