When Egypt's satirists poke fun, public prosecutor hits back (+video)
The case of Bassem Youssef, the Egyptian satirist accused of insulting Islam and the president, has exposed what seems to be a series of politically motivated investigations into government critics.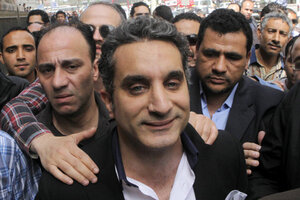 Amr Nabil/AP
Egypt is escalating a series of cases against government critics, and pursuing investigations against journalists, comedians, and activists in what the president's critics say is a bid to silence them.
Today prosecutors questioned Ali Qandil, a standup comedian who appeared on the popular political satire show hosted by Egyptian Bassem Youssef. He's accused of insulting Islam during his 20-minute appearance on Mr. Youssef's show, Al Bernameg, or The Program.
Mr. Youssef himself was interrogated on March 31, over accusations of insulting Islam as well as the president. A new case has been filed against him as well. And now Shaimaa Abu El Khir, a journalist who works with The Committee to Protect Journalists, faces accusations of threatening national security and insulting the judiciary, as does the television host who interviewed her, after commenting critically on the case against Youssef.
These cases come on the heels of prosecution of many other local journalists and prominent opposition activists in what critics of the Muslim Brotherhood-backed president, Mohamed Morsi, say seems to be a politically motivated campaign against the president's critics by his handpicked public prosecutor.
Activists say the incidents are further eroding trust in the public prosecutor's position, already low because Morsi appointed the prosecutor himself in a controversial November decree bypassing the constitutional process.
---