Iran's Khamenei condemns Boston Marathon attacks, but takes jab at US policies
Iran's supreme leader was emphatic in his condemnation of the Boston Marathon attacks, but criticized the US for decrying attacks on its own civilians while carrying out drone strikes elsewhere.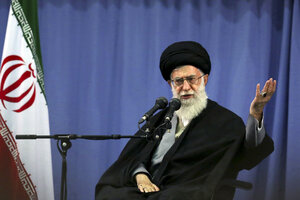 Office of the Supreme Leader/AP
Iran's supreme leader today added his voice to condemnations of the Boston bomb blasts, while also digging at what he deemed double standards over drone strikes and other attacks that left civilian casualties.
Ayatollah Ali Khamenei said US reaction was "contradictory" and "illogical," in light of its actions overseas.
"The Islamic Republic of Iran, which follows the logic Islam, is opposed to any bombings and killings of innocent people, no matter if it is in Boston, Pakistan, Afghanistan, Iraq, or Syria and condemns it," Ayatollah Khamenei told military commanders in Tehran today, according to his website and Iranian media reports.
"The US and other so-called human rights advocates remain silent on the massacre of innocents in Pakistan, Afghanistan, Iraq, and Syria, but they cause a ruckus after a few blasts in the United States," said Khamenei.
Iran's condemnation of the dual Boston explosions, which killed three and injured 176, faintly echoed Iran's more full-bodied condemnation of the 911 attacks in the US. After that event, thousands of Iranians took to the streets to hold candlelight vigils – the only nation in the Middle East to see such a significant public outpouring of sympathy.
---