Syrian rebels cling to enclave in eastern Lebanon
The Lebanese town Arsal, a Sunni stronghold surrounded by Shiite villages, is a haven for refugees and a weapons depot for rebel fighters. Its loss would be devastating.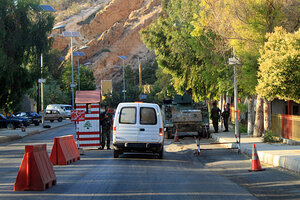 Rami Bleibel/Reuters
The wounded Syrian, his bloodcrusted face swathed in bandages, is gently lifted from the back of a pickup truck that had just made the perilous journey across Lebanon's remote northeastern border with Syria.
"Slowly, slowly," says Ahmad Hujairy, a Lebanese medic, as the stretcher is eased into the back of an ambulance.
The man was wounded two weeks ago by an exploding mortar round as the strategic rebel-held town of Qusayr fell back into the hands of the Syrian Army and Lebanese Shiite militant group, Hezbollah.
The survivors, civilians and rebel fighters alike, have since trekked across a desolate mountainous landscape, where missile-firing Syrian helicopters often prowl, to reach Arsal, a Sunni-populated Lebanese town near the border with Syria.
Arsal has been a bastion for the rebels since early in the uprising. The dirt tracks that cut across the rugged landscape to the north and east were used by rebels to ferry weapons and ammunition into Syria and by refugees headed the other direction, fleeing the violence.
But now that the Syrian regime has taken Qusayr, just five miles north of the border, the northern route into Syria is blocked. And the Syrian Army, backed by Hezbollah fighters, appears poised to seal the border east of Arsal as well, potentially bottling up several thousand Lebanese and Sunni rebels in this remote area. Last week, a Syrian helicopter fired missiles into the centre of Arsal for the first time, wounding one man. The attack drew a rare complaint from the Lebanon, which has long lived in the shadow of its larger neighbor. 
"Arsal will meet the same fate as Qusayr because there's nothing but rebels here," says Samar Attar, a Syrian fighter from Qusayr.
'Pressure cooker'
The concerns felt by Arsal's residents are compounded by the town's isolation. There is only one asphalt road linking it to the rest of Lebanon. The road crosses a barren mountainous ridge west of Arsal before dropping into the flat plain of the Bekaa Valley, a mainly Shiite-populated area and stronghold of Hezbollah.
The fall of Qusayr has cut the logistical supply chain that previously extended north from Arsal, over the border to Qusayr, and on to Homs, Syria's third largest city. But the tracks heading east from Arsal that connect to the rebel-held areas around the Syrian towns of Yabroud and Nabk remain open for now. This allows rebels to slip into Syria and head south toward the frontlines around Damascus.
The sources close to Hezbollah have indicated that the Syrian army and Hezbollah will focus efforts on restoring the area between Damascus and Homs fully to regime control. Seizing Yabroud and Nabk will be key to this strategy as it will allow the regime to control the border east of Arsal.
If Arsal is neutralized, it will greatly diminish the ability of Lebanese rebel sympathizers to provide any significant logistical support to the rebel forces in terms of weapons and volunteers.
It will also turn Arsal into a dangerous pressure cooker with thousands of frustrated fighters unable to reach the frontlines in Syria. Tensions are already running high between Arsal and its Lebanese Shiite neighbors to the west, not just because they back opposing sides in Syria, but because of a spate of tit-for-tat kidnappings and killings.
The northern Bekaa is a tribal area where notions of clan loyalty and revenge run deep. Last week, the brother of a sheikh in Arsal was killed while driving through a Shiite area near Hermel. On Sunday, four Shiites were ambushed and gunned down while driving along a track near Arsal. Three of them were from the powerful Jaafar clan and dead men's relatives have sworn revenge.
Fury toward Hezbollah
The conflict in Syria has been seeping into the northern Bekaa for months. Syrian rebels have fired Katyusha rockets across the border, striking a swathe of Shiite towns and villages and killing and wounding several people. Sources close to Hezbollah say fighters have deployed into the barren mountain chain along Lebanon's eastern border to intercept Syrian rebel rocket-firing groups.
The Syrian rebels from Qusayr who are now recovering from wounds, hunger, and exhaustion in Arsal relate harrowing tales of their 17-day ordeal when the town was subjected to heavy artillery shelling and air strikes. Hezollah led the assault on Qusayr, deploying some 1,200 of its battle-hardened special forces fighters.
"They were very fierce fighters. You would shoot at them but they kept on coming. They wore headbands with 'O Hussein' written on them," says Mr. Attar, referring to the grandson of the prophet Muhammad and a revered figure in Shiite Islam.
Khaled, a slim fighter from Qusayr with a spade-like beard and cropped hair, says he captured a 15-year-old Lebanese Shiite.
"He wore a headband inscribed with 'martyrdom is the key to heaven.' I asked him why he has fighting in Qusayr. He said that he was waging jihad," Khaled says.
What did he do with the boy?
"I killed him, of course," Khaled says with a chuckle.
It was impossible to verify his story, although Hezbollah does not permit men below the age of 18 to serve in a combat role.
The battle for Qusayr and Hezbollah's intervention in the Syria war has left upon the rebel fighters an indelible imprint of fury and bitterness toward the Lebanese group and a burning desire for revenge that even dwarfs their hostility toward the Assad regime, which is dominated by members of the Alawite sect, an offshoot of Shiite Islam.
The rebels refer to Hezbollah as the "Party of the Devil," a play on the group's name which means "Party of God" in Arabic. 
"We will never make peace with Hezbollah," says Abu Mohammed. "We will never forgive nor forget. They have killed our people. Even after Assad is gone, we will continue to go after the Party of the Devil. I would release four Alawite prisoners for the pleasure of killing one Shiite. They will remain our enemy forever."
---