Egypt's military faces the fallout of Cairo bloodshed
Egypt's image of civilian governance has evaporated after yesterday's clashes, but the military said its actions headed off an even greater disaster.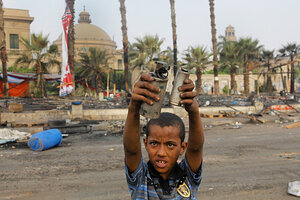 Amr Nabil/AP
The true toll of yesterday's crackdown on two protest camps became more apparent today as the number of dead rose above 500.
While the military oversaw cleanup of the smoldering debris at the site where thousands of supporters of the former President Mohamed Morsi had camped for a month and a half, and where more than 200 people were killed yesterday, the interim government began to deal with the repercussions of the crackdown.
Nobel laureate and interim deputy vice president Mohamed ElBaradei, who opposed a violent crackdown on the protesters, resigned yesterday, and US President Barack Obama interrupted his vacation to criticize Egypt's actions and announce the cancellation of joint military exercises.
Egypt's government appeared to be losing the sheen of civilian credibility it had worked hard to project after the military deposed Mr. Morsi in response to massive protests against the former president.
"The unfortunate aspect of the June 30 protests and July 3 coup is that this was always a military push to assert its authority and basically rid any civilian competitors from challenging its power," says Joshua Stacher, a professor and Egypt expert at Kent State University who recently published a book on autocratic rule in Egypt and Syria.
---