Palestinian woman with prison legacy feels betrayed by her own
(Read article summary)
Umm Abdullah, whose husband is on his 14th turn in prison and has been imprisoned herself, is angry with Palestinian officials for cooperating with Israelis to arrest Palestinians.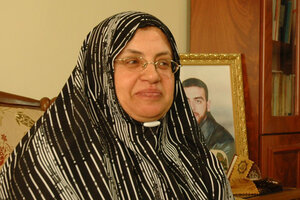 Christa Case Bryant / The Christian Science Monitor
Umm Abdullah's husband, former Al-Bireh mayor Jamal al-Tawil, was recently imprisoned for what she estimates is the 14th time – although she's not sure, because she's lost count. She has also spent time in jail, as has her daughter.
Sitting on the regal sofa of her Ramallah home in February, she said she would like to have joined the protests that were sweeping the West Bank that week in support of Palestinian prisoners in the wake of Arafar Jaradat's death in Israeli custody.
But she's worried that Palestinian Authority security forces, dominated by the secular Fatah faction, will report her to the Israelis as a supporter of Fatah's Islamist rival Hamas. The last thing she needs is to give Israel a reason to arrest her again, and she resents the PA for essentially spying on Hamas supporters like herself.
"If we go back to the Stone Age, we do not see any authority acting as spies to the enemy of its own people," she says.
The West Bank is abuzz with talk of a third intifada, but Umm Abdullah says she doesn't think it can happen while there is such distrust between the PA and Hamas.
---