Why one Israeli settler invites tour groups over for tea
(Read article summary)
Ardie Geldman, who lives in the Israeli settlement of Efrat, regularly speaks to groups with a predominantly pro-Palestinian agenda.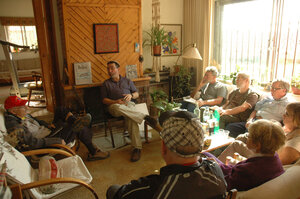 Christa Case Bryant/The Christian Science Monitor
When Ardie Geldman and his wife bought a car in Bethlehem, back when Israelis still flocked there to shop at lower prices, they struck up a friendship with the Palestinian car salesman that lasted a decade.
When the couple took their car back to service it, the salesman would return it to their home in the nearby settlement of Efrat – sometimes with a bouquet of flowers for Mrs. Geldman.
While such relationships have largely been suspended due to the Palestinian uprisings and Israel's heightened restrictions on Palestinian movement, many Israeli settlers still interact with Palestinians who work on their homes or at supermarkets like the Rami Levi down the road. That may come as a surprise to foreigners who come to see the towering cement walls, covered in Palestinian graffiti about apartheid and oppression, that form part of the separation wall Israel built after the second Intifada began.
For such tourists, Israeli settlers may seem like faceless interlopers trespassing on justice. So Geldman carved out a niche for himself, first as a member of the Efrat municipality and now as an independent speaker, to explain the narrative of the more than 300,000 Israelis who live in the West Bank – or Judea and Samaria, the biblical names they prefer to use because they allude to the Jewish people's 3,000-year-old ties to the land.
"I've always believed in what I considered to be fairness as a personal value that I uphold, and I think that these people – many of them – are not getting the whole story. They're being told lies and half-lies," he says, estimating that their itineraries are "97 percent biased in favor of the Palestinian narrative."
Sometimes, when a group heads back to the bus after an hour or hour-and-a-half with Geldman, a few linger behind and thank him under their breath for telling a part of the story they're not hearing from anybody else. "To me, that makes it worth it," he says.
---