Did Qaddafi flee to Niger? Libyan convoy in Niger is reminder of Sahel's close ties.
(Read article summary)
Muammar Qaddafi may not be in Niger, but he has lots of friends to Libya's south.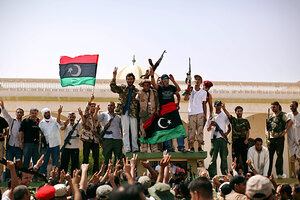 Alexandre Meneghini/AP
• The latest updates on Muammar Qaddafi and developments in Libya's war
Armored columns containing Libyan soldiers and top allies of former Libyan strongman Muammar Qaddafi, arriving in the West African country of Niger, set off speculation today that Mr. Qaddafi may be preparing to flee the country.
Wishful thinking, perhaps. Eyewitnesses at the border and in the Nigerien capital of Niamey say that Qaddafi himself had not been seen in the convoy, although 12 senior Libyan officials including Qaddafi's own security chief, Mansour Dao, had been sighted, along with Niger's ethnic Tuareg rebel leader Rissa ag Boula, who had come to fight in Qaddafi's defense.
Niger may simply be a stopover for the convoy on the way to Burkina Faso, where President Blaise Compaore – a longtime Qaddafi supporter and protégé – has reportedly offered Qaddafi asylum.
But Qaddafi's long-standing relationship with his neighbors in the African Sahel region – including Chad, Niger, Mali, and Burkina Faso – make it entirely plausible that Qaddafi might seek refuge there, if and when he makes the decision to flee.
---