Canada aims to 'Own the Podium' at Vancouver Olympics
Mild-mannered Canada? Think again. The host of the Vancouver Olympics has been on a five-year national drive to win the most medals.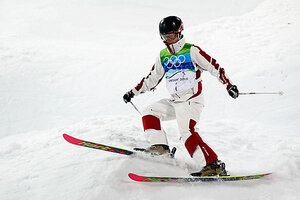 Mark Blinch/Reuters
Whistler, British Columbia
In 2006, Canadian athletes won a record 24 medals in the Winter Olympics. But they were just seconds from grabbing 13 more, trapped in fourth-place finishes.
This year, Canada is determined to convert those medal contenders into a formidable arsenal of athletes that will win more medals than any other country at the 2010 Vancouver Games.
The boldness of host Canada's $110 million "Own the Podium" program, initiated five years ago to improve everything from the speed of a snowboard to the psychology of a speedskater, has taken some by surprise – not least of all its southern neighbor. But just because Canadians are friendly doesn't mean they don't want to win.
"[The world] maybe thought that we didn't want it because we weren't at that level," says Regan Lauscher of Canada's luge team, which is now within striking distance of winning the country's first medals in the sport. "We always did want to win and we always did want to excel."
The luge team has drawn particular attention for dropping a reciprocity agreement dating back to 1980, under which the US and Canada gave each other extra runs ahead of major competitions. While that caused some grumbling, Canadian athletes say they have every right to capitalize on their unique opportunity as Olympic host.
"They thought they could squeeze in an extra few runs, barter for more, and that we would say, 'Sure,' " adds Lauscher. "But finally, we just said, we want to win – not because we wanted to disadvantage anyone else, but because we wanted to give ourselves the best advantage."
---