Whistler and Vancouver: a tale of two Winter Olympics
Amplifying a recent trend, the 2010 Winter Olympics will be split between two cities – Vancouver and Whistler – almost completely separate from each other. Critics say it undermines the Olympic spirit of unity.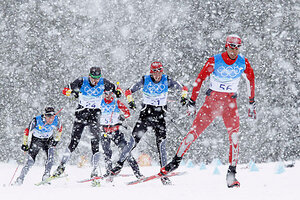 Dmitry Lovetsky/AP
Vancouver and Whistler, British Columbia
The Winter Olympics are opening tomorrow and Czech alpine skier Klara Krizova is desperate to go to the ceremonies in Vancouver. It is her first Olympics, after all.
But chances are she won't make it, she says. The reason is not any sort of ban or curfew. It is simple geography.
Though these are known as the Vancouver Winter Olympic Games, they are actually two different Olympics going on simultaneously – one in Vancouver and one in the mountain village of Whistler. And getting between them is no easy matter.
The three-hour bus ride means Krizova would not return to Whistler, where she is competing and staying, until past midnight – and she has training the next day.
In this way, the Vancouver Games are merely amplifying a trend begun more than a decade ago. As the Winter Olympics outgrow their homespun Nordic roots to include snowboarders riding fakey and VIPs expecting five-star treatment, the Lillehammers and Lake Placids of old simply can't accommodate what the Games have become.
The result has been a shift to bigger cities, but with few big cities being situated directly at the foot of an Olympic quality mountain range, the Winter Olympics have increasing become schizophrenic. The Turin Olympics were the first to feature more than one athletes' village – an acknowledgment that the distance between the city and the mountain venues had become too great an inconvenience for athletes.
---