How Vancouver can hold a Winter Olympics with no snow
Cypress Mountain, the venue for the snowboarding and freestyle skiing events, has had to truck and fly in enough snow to fill 20 Big Bens. But organizers say it's now ready to go.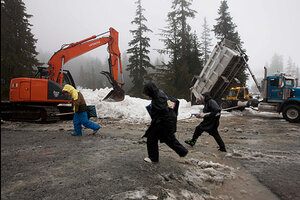 Sean Kilpatrick/The Canadian Press/AP
These days, a perpetual rainy mist hangs over Cypress Mountain. For those trying to ensure that the venue will be ready to hold Olympic events starting tomorrow, it could just as easily be the smoke of battle.
During the past month, the Vancouver Organizing Committee and the weather have been at war, and nowhere more so than on this suburban mountain that is set to host the snowboard and freestyle skiing events.
After a historically warm January, the mountainside is mottled with the earthen spots of a receding winter, forcing organizers to import snow from distant peaks and passes by truck and helicopter simply to have enough to hold a competition.
On the eve of the Olympics, the big story in Vancouver is still the weather, with fog potentially wreaking havoc on the Olympic schedule throughout the weekend.
But what organizers can control, they have – including enough reserve snow piled at the base of Cypress's Black Mountain and covered in tarps to make sure the venue can survive even if not a single flake of snow falls for the entire Olympics.
"The course is fine," says former Olympic gold medalist Jonny Moseley, who surveyed the moguls run Thursday. "All this about the course sliding off the hill and there being no competition has been a bit hysterical."
---