Whistler track reopens day after luger Nodar Kumaritashvili death
Lugers will race for gold at the Winter Olympics Saturday, after an investigation that resulted in two additional safety measures for the track. But debate is likely to continue over the Whistler track.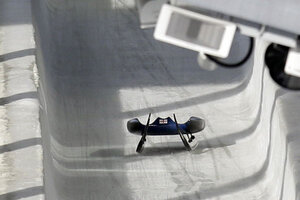 Michael Sohn/AP
Vancouver, British Columbia
Lugers will race for a gold medal at the Winter Olympics Saturday, one day after colleague Nodar Kumaritashvili died from injuries sustained in a crash during a training run.
Both authorities for the Province of British Columbia and the International Luge Federation (FIL) have finished their investigations of the site.
The Coroner's Service of British Columbia gave the FIL permission to reopen the track, and FIL has decided to resume competition once two additional safety measures are taken.
First, the walls at the end of curve 16 – where Kumaritashvili flew out of the track and hit an unpadded steel post – will be raised. Second, the ice profile will be changed to make the curve less severe. Both of these changes can be finished before the competition Saturday.
The FIL investigation concluded that the crash was "extremely exceptional" and was a result of driving mistakes made by Kumaritashvili in curve 15.
"After a routine run, the athlete came late out of curve 15 and did not compensate properly to make correct entrance into curve 16," a FIL statement reads. "This resulted in a late entrance into curve 16 and although the athlete worked to correct the problem he eventually lost control of the sled resulting in the tragic accident."
The statement continues: "There was no indication that the accident was caused by deficiencies in the track."
The FIL statement came as more information about the crash and Kumaritashvili became available.
Crash occurred after track's most difficult portion
---