US Nordic combined 'band of brothers' celebrate historic Olympic medal
Johnny Spillane's silver is the first US medal in Nordic combined skiing since the inaugural 1924 Winter Olympics. The US fourth and sixth place, too, makes this the most dominant team performance by any country in a quarter of a century.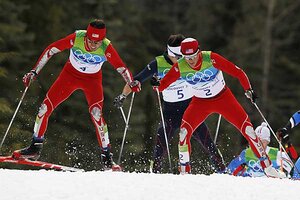 Matthias Schrader/AP
Whistler Olympic Park, British Columbia
Like the Red Sox breaking the curse after 86 years, US Nordic combined team today shattered an ice ceiling that's been in place ever since the event was first contested at the inaugural 1924 Olympic Games. But while Johnny Spillane's historic medal – America's first in the sport – is indeed cause for celebration, perhaps the greatest feat is that any one of his band of brothers could have stood on the podium here tonight.
And they almost did, with Todd Lodwick fourth, just a ski length out of bronze, and Bill Demong sixth – the most dominant performance by any country in a quarter of a century.
For Demong, who rallied back after a disappointing 24th in the jumping round, Spillane's performance was as thrilling as if he had won the silver himself.
"I'm ecstatic right now – I was ecstatic even after the jumping," says Demong, despite the fact that he woke up this morning planning on winning a medal himself. And he knows it would have been the same if he'd made the podium. "I would expect these guys to take a piece of any medal I won."
The golden generation of US Nordic combined, Lodwick, Spillane, and Demong are an Olympic success story that was two decades in the making. It is the cumulative effort not only of the athletes, but of a tight-knit community that – in a country better known for the Super Bowl than ski jumping – helped bring everything together just as the sport's elder statesmen reached their prime.
---