Olympics schedule 2010: Monday's events
Monday's Winter Olympics schedule includes women's ice hockey, men's alpine skiing, snowboarding, cross-country skiing, speed skating, luge, and figure skating.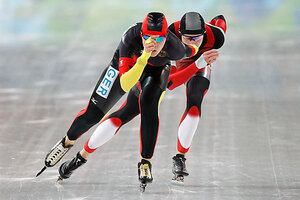 Chris Carlson/AP
Olympic events schedule: Monday Feb. 15, 2010
Coverage on NBC-TV begins at (10 am) 1 pm EST.
Click on the name of the sport for information about the event and who to watch in each event.
10 am - 11:15 am (1 pm - 2:15 pm EST) CROSS COUNTRY SKIING - Women's 10-kilometer race.
Where: Whistler Olympic Park
10:30 am (1:30 pm EST) ALPINE SKIING - Men's Downhill
Where: Whistler Olympic Park
10:30 am (1:30 pm EST) SNOWBOARDING - Men's cross - qualifying runs. (Four racers compete on course, fastest two move on.)
12:30 am (3:30 pm EST) CROSS-COUNTRY SKIING - Men's 15-kilometer race
2 pm (5 pm EST) SNOWBOARDING - Men's cross (Four racers compete on course, fastest two move on)
2:26 pm (5:26 pm EST) SNOWBOARDING - Men's cross - quarter-finals. (Four racers compete on course, fastest two move on)
2:30 pm (5:30 pm EST) ICE HOCKEY - Women's - Switzerland vs. Canada. Preliminary round. Eight teams competing.
Where: UBC Thunderbird Arena, Vancouver
---